New Conforming Loan Limits and What It Means For You
Mortgage brokers have another advantage when it comes to conforming loans. On November 30, 2022, the FHFA (Federal Housing Finance Agency) announced the baseline conforming loan limit for Fannie Mae and Freddie Mac backed mortgages will be $726,200 in 2023. This is an increase of 12%, or $79,000, compared to 2022. And for the first time ever, the federal government will back mortgage loans more than $1,000,000 with the new ceiling loan limit for one-unit properties in designated high-cost areas at $1,089,300, 150% more than the $726,200. Here is what new conforming loan limits means for borrowers: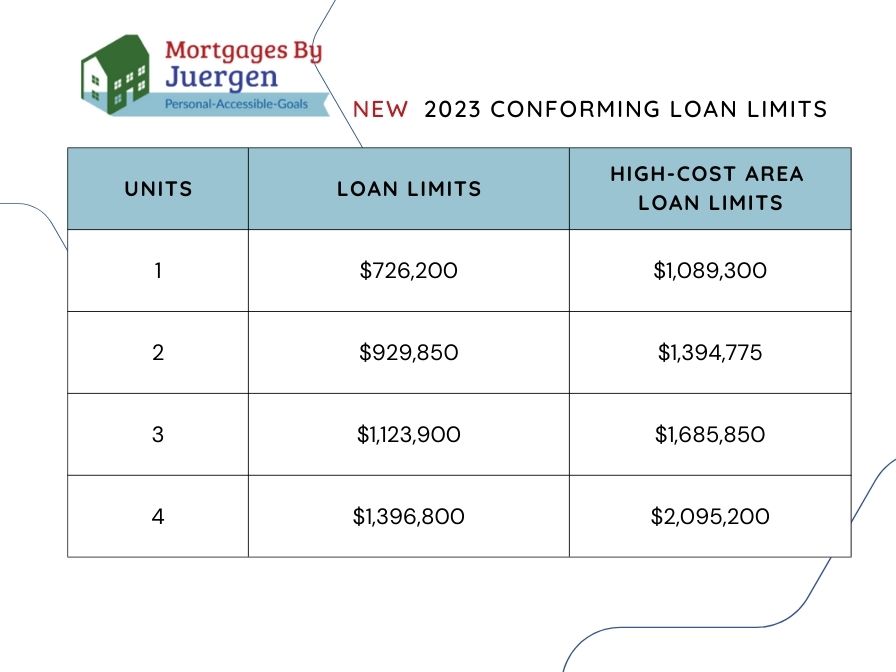 Loan limits vary by location so please contact me for further details.
This change raises the current conforming loan limit of $647,200 which is good news for buyers or existing homeowners whose home mortgages fall between the $647,200 and $726,200 range. Loans in that range are no longer required to take the pricier high-balance loan or a jumbo loan.
There are several other benefits to borrowers with this news:
Since high-balance loans also carry tougher qualification standards, this change may open up more buying opportunities for home buyers who otherwise wouldn't have been able to qualify.
The borrowers will get better rates with conforming loans in this range.
Borrowers currently in a high-balance loan within that range, may be able to refinance into a confirming loan and save money.

Buyers may also be able to make smaller down payments on homes up to a $726,200 loan amount.
Here are the new single family home conforming loan limits we have access to:
Conforming Conventional Loan

Old Loan Limit $647,200
New Loan Limit $726,200

High-Balance Loan

Old Loan Limit $970,800
New Loan Limit $1,089,300
As a broker, I have the option of selecting the best lender for your individual situation. In addition to providing solutions for home purchases, I also help borrowers consolidate debt, reduce their monthly payments and get cash out of the equity in their home to assist with home improvements, college, new investments or whatever the money is needed for. Customization to your specific goals is what it's all about!